Telecom Today
Difference:
Clean, Tidy & Professional
We service connections with all telco providers including:



Rated 5 Stars by Customers on these Platforms: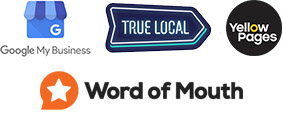 Daniel
Phil and his team went out of their way to come to fix my elderly parents phone on a day's notice over a weekend. They were polite, efficient and reasonably priced. I would certainly use them again and highly recommend their service. Thanks.
Hi There.
Telecom Today consist of a team of experienced, licensed and honest technicians. Servicing and installing all phone, data, ADSL and internet lines is our speciality. Our Telecom Today tech's also specialise in security camera installations, repairs and maintenance. In other words, we're here to help provide you with all of your communication needs whether it be for your business or for your home!
We have all seen society change over the years and understand that business, education and general every day life survive off telephones and internet. If these are down, everyone suffers. At Telecom Today, we have all performed the procedures of resuscitating dead internet and phone lines, or installing new ones. Nothing is too big or too difficult for us at Telecom Today. Our team of licensed technicians are known to take pride in their work, always ensuring that the job is done right the first time and go that extra mile to ensure all customers are extremely satisfied.
Sounds too good to be true, right? It's not. Don't suffer being disconnected any longer. Give us a ring now, and we will connect you: telephone and internet technician sydney , phone line repairs sydney, security cameras, mdf jumpering, internet technician sydney, telephone technician sydney, internet and telephone technician, internet and telephone technician,
Telecom Today
0450 44 55 66 
Telecom Today are registered cablers with the Australian Communications and Media Authority.