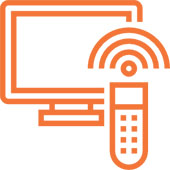 Install additional TV points around your property
Install or replace TV and Foxtel Cabling
Highest Rated Television Cablers in Sydney
Install or Replace Coaxial Cables or Foxtel Cables to give all your TVs access
We can ensure that different areas of your Sydney home or business are ready to have a TV connect to your existing Free to Air and/or Foxtel service.
We'll run the additional Coaxial and Foxtel cables to where they are required within your property and install the appropriate sockets to allow your new TV to be connected.
Also, if you are experiencing service issues on your current connections, your cables or sockets may need replacing. We're able to investigate and diagnose any issues and replace any troublesome cables and sockets.
To book our Free to Air and Foxtel cabling services please fill out the enquiry form below or call us today.
We service connections with all telco providers including: